Hi!
Ramona and Dale Zabriskie here!  
What would it be like to draw closer to your spouse by sharing your deepest sexual needs and private feelings in a way that feels safe and validating to both of you? 
We've been working on that ourselves for over 40 years! The result? We are still red-hot, sweet-on-the lips, easy-on-the-eyes, giddy-to-the-heart, euphoria-to-the-brain partners and lovers.
It feels WONDERFUL.
Would you like to experience your own wonderful? And sooner than later?! And for a long, long time to come?
You can. 
That's what Conversations on Physical Intimacy for Wives and Their Husbands is helping couples from every stage of life and marital experience DO: create something wonderful.
This is the how students of the course are describing it…
"I'm still stunned at the revelations I had while listening to the conversations and talking with my husband. Those moments are magical to me, and continue to help us feel closer."
"The way it opened us up to the kind of conversations two adults in a committed and loving relationship should experience, is mind-blowing and revolutionary."
"I think it is absolutely brilliant how this has been created, and I can't imagine anyone ever regretting taking this course with their spouse."
With the help and guidance of Conversations on Physical Intimacy for Wives and Their Husbands, a couple can greatly improve their relationship by resolving sexual issues they have felt reluctant (or unable) to confront. And the "okay" parts of their physical relationship become more pleasant and more meaningful than ever.
Imagine your sexual relationship rising to the level of true physical intimacy!
HOW DOES IT WORK?
Our Conversations course not only delivers special information in a pleasant, safe, and gentle way but it's also designed to inspire and guide listeners through their own conversations or reflections.
The kingpin in this revolutionary approach is a total of 8 hours of uniquely helpful, high quality, thoroughly researched, thought-provoking, proven instruction and information couched inside a series of brief, digestible AUDIO conversations between the two of us!
"…this is all carefully laid out (and exemplified) by Ramona and Dale, and it comes into the privacy of our own home so it is just between my husband and me. That is perfect for us."
"The way it is divided into segments where you first listen and then discuss your own impressions through guided questions is incredibly helpful with such sensitive, complex subjects."
"The conversations and prompts served as a good counseling session enabling us to share perspectives in a positive and safe environment…we loved how it flowed very smoothly."
If you know us from Ramona's multi-award winning book, Wife for Life: The Power to Succeed in Marriage, or from her WifeSavers Education program, or from our WifeSavers Podcast, then you know that, although we take our position as marriage experts, educators, and exemplars very seriously, we have tons of fun doing it.
This Conversations course is no different.
"What stood out for us was the intimate nature of the material presented without making us feel uncomfortable or embarrassed."
"We liked how tasteful the conversations were…they were both open and vulnerable about their experience without sounding inappropriate or critical of one another."
"Ramona and Dale Zabriskie's gentle banter and loving conversations and laughter opened up my husband who is a bit rigid on things of this type."
Students and listeners call us "genuinely warm", "delightfully entertaining", and "surprisingly honest". We're glad of that because all we want to do is comfortably pave the way and open the door to your own husband-wife exchanges on a variety of topics related to your sexual relationship.
The subjects that we'll guide you through include…
Identifying and Overcoming Obstacles and Barriers in your Sexual Life
A Wife's Sexuality and Her Body Image
A Husband's Perspective on Sexuality
Physical Intimacy Through Each Stage of Family Life
What is Normal and Where are the Boundaries?
The Best Possible Outcome of Emotional and Sexual Unity
(*More detail about each Conversation topic at the bottom of this page…)
WHY DOES IT WORK?
Getting good information is obviously the first step…
"We loved it! Powerful and enlightening!…thorough and touched on so many important things…so much information was revealed and "put names to"."
"The information is a treasure..information that you do not hear anywhere else. It puts it together in a way where you discover enlightenment about yourself that you didn't even realize you had!"
"For decades, we struggled with the same frustrating conversations over and over with no real progress…but this course taught us with sensitivity, insight, and scientific evidence laced with humor and real-life practicality that worked!"
Then it's your turn to talk.
When you focus in on one area at a time…one concept, one principle…considering and conversing about your values, your ideas, and your experience…more thoughtfully than you probably ever have before…
…something amazing happens.
You start to feel differently toward one another and toward sexual intimacy in general! New understanding begins to positively affect every other aspect of your relationship and life together.
Breakthroughs in both your physical and emotional intimacy begin to multiply and snowball until you find that celebrating your love through physical union is increasingly natural, pleasant, and rewarding; more and more desirable than ever.
"I can sense that this is already allowing us to begin resolving current obstacles, and we haven't even discussed them yet! Maybe the real obstacle was the lack of thoughtful communication. I can only imagine how having this sooner would have shortcut the process with previous challenges, but I am so grateful to have it now!"
"Honestly, I didn't know what to expect, but now, I feel the brilliance of speaking openly and intimately with my husband to foster a more heartfelt connection that draws us into each other in all ways."
"Listening to these conversations with my husband has opened the door to great discussions and insights into each other. It was so validating to have some of the challenges defined so perfectly…so they became less of a challenge and more of a journey to a great destination."
We hope we've made our point!
Honest, healthy communication is vital in all areas of married life if a couple is going to thrive. And no area of your relationship deserves and needs honest, healthy communication more than your sexual relationship, potentially the most transformative aspect of your partnership. 
"A beautiful experience that is creating domino effects in our marriage."
"Worth every moment!"
"We're enjoying a closer and more open-minded physical relationship than ever before."
"I can't tell you how much you have changed my life."
With the help of Conversations on Physical Intimacy for Wives and Their Husbands, you can take your relationship to a whole new level as you come to see and to understand yourself better and to empathize more deeply with your spouse.
To get started, just follow these three steps:
1 – PURCHASE the course. Get it now for less than a romantic weekend get-away: only $149 to set yourselves up for a lifetime of amazing getaways and every-days!
2 – LISTEN. Just listen at your pace, in your own way, together or apart. You will each have your own login for the course and can download audio lessons or listen on our site. You will also be able to track your individual progress on your own individual account pages!
3 – TALK. Follow the natural, simple "prompts" to easily start your own couple-conversation.
Note: Not ready to involve your spouse just yet? No problem, the course also works beautifully as an individual course-of-study!
As always, thanks for reading and listening! We are so grateful to be your mentors and guides on "your journey to a great destination"! Can't wait to see what YOU create.
Much love,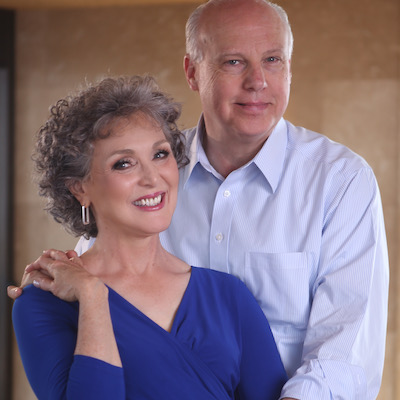 Ramona and Dale Zabriskie
P.S. If you haven't yet, we invite you to listen to the intro audio on this page to get a feel for us and the course, and to get your FAQ's answered.